Dissected Mermaid (Detail)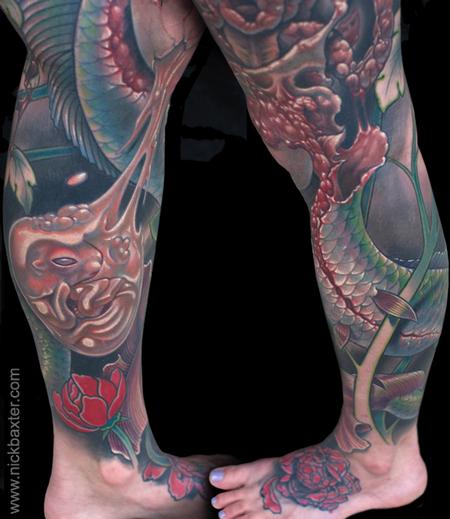 Lower leg close-ups of the Dissected Mermaid leg sleeve, which you can see in full by clicking on the detail image link. Or see the more views of it elsewhere in my tattoo gallery.
This tattoo was inspired by an original painting by Japanese artist Takato Yamamoto, which I interpreted into my own artistic style, with several specific changes requested by the client for her personal symbolism, including the bunny ears and rabbit fetus-eggyolk. This project was great fun, with a nice balance between simple and complex--lots of great anatomy detail and a subtle stylistic homage to the traditional Japanese tattoo style.
By Nick Baxter
Keyword Galleries:
Animal Tattoos
,
Color Tattoos
,
Flower Tattoos
,
Body Part Ankle Tattoos
,
Body Part Calf Tattoos
,
Body Part Foot Tattoos
,
Body Part Leg Tattoos
,
Body Part Leg Sleeve Tattoos
,
Custom Tattoos
,
Fantasy Mermaid Tattoos
,
Finished Work Tattoos
,
Flower Chrysanthemum Tattoos
,
Illustrations Tattoos
,
Nature Animal Koi Fish Tattoos
,
Nature Animal Rabbit Tattoos
,
New Tattoos
,
Oddities Tattoos
,
Original Art Tattoos
,
Skin Rips Tattoos
,
Sleeves Tattoos